Take a virtual 3D tour of one of our Spiral Conveyor models. You can walk around it and click points of interest to learn more.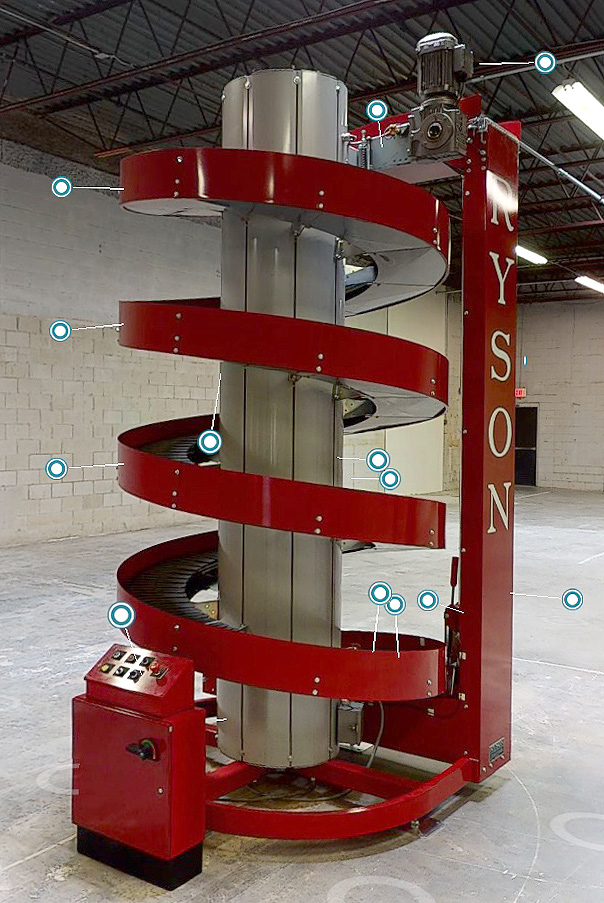 The Ryson Unit Load Spiral Conveyors – or case spiral – can convey cartons, cases, trays, totes and all sorts of packaged goods up or down in a continuous flow. Central to our design is the Ryson proprietary slat-style belts designed with rolling friction without any sliding movements or wear strips. This facilitates a small footprint, high speed, low noise, low maintenance and a long life. Ryson Spirals are available in powder coated carbon steel, stainless steel, hybrid and freezer versions.
Ryson also has models that serve the bottling and canning Industry. Our Mass Flow models are designed to handle full and empty bottles, cans, jars and other similar containers in mass.
Our High Capacity models are well suited for tall warehousing operations. They have the capability of induction or diverting in or out of the spiral at intermediate elevations. This makes them ideal for multi-level pick modules and order fulfillment centers.
For smaller items, we offer our Narrow Trak Spiral. These are our smallest units, offering 6" or 9" wide nesting slats which provide an efficient flat conveying surface without gaps. The Narrow Trak Spirals offer a significantly larger elevation change capacity than what is currently available in the small package marketplace. They are also a good alternative to side gripper conveyors because they can run at high speeds and do not need to be adjusted for varying product sizes.
Ryson is the Number One Manufacturer of Spiral Conveyors in the USA. For installation examples and other articles about the Ryson Unit Load, or Case Spiral, check out the Ryson Weekly Blog. For and overview of all our models with their typical applications, along with this video, click here.
The link to the full page viewer for the 3D Tour is here.