The Ryson High Capacity and Wide Track Spirals can be configured to allow loads to enter or exit at several intermediate elevations.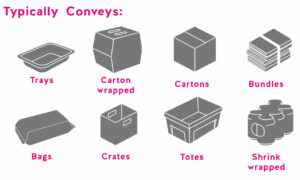 Ancillary induction and divert conveyors can be utilized to allow loads to enter or exit the spiral at intermediate elevations. An ideal spacesaving solution for multi-tiered product flow – like pick modules.
This is a perfect application for multi-level warehousing, e-commerce and other order picking operations. Loads can enter or exit the spirals at multiple elevations, reducing floorspace and the number of elevating conveyors. This concept is also commonly used in applications where a single spiral is utilized for multiple production or packaging lines.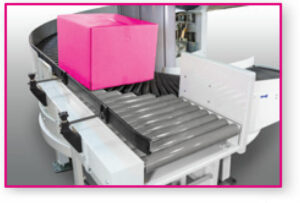 Our proprietary induction conveyor uses powered rollers introduce loads onto the spiral. They are designed with the spiral's radius and are adjustable to match the pitch of the spiral, assuring a safe and reliable product transfer.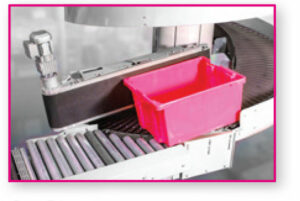 Our Divert Out Conveyors have a pivoting arm with a powered face belt assuring proper product orientation and gentle handling when diverting out of the spiral at intermediate elevations. The powered out feed conveyor is similar to the induction conveyor in that they have individually adjustable rollers that allows you to match the spiral pitch, assuring a reliable product transfer out of the spiral.
The multiple entry and exit spirals are equipped with slats that have special rounded friction inserts. They provide just enough friction to prevent products from back sliding without preventing smooth side movement during induction or diverting out.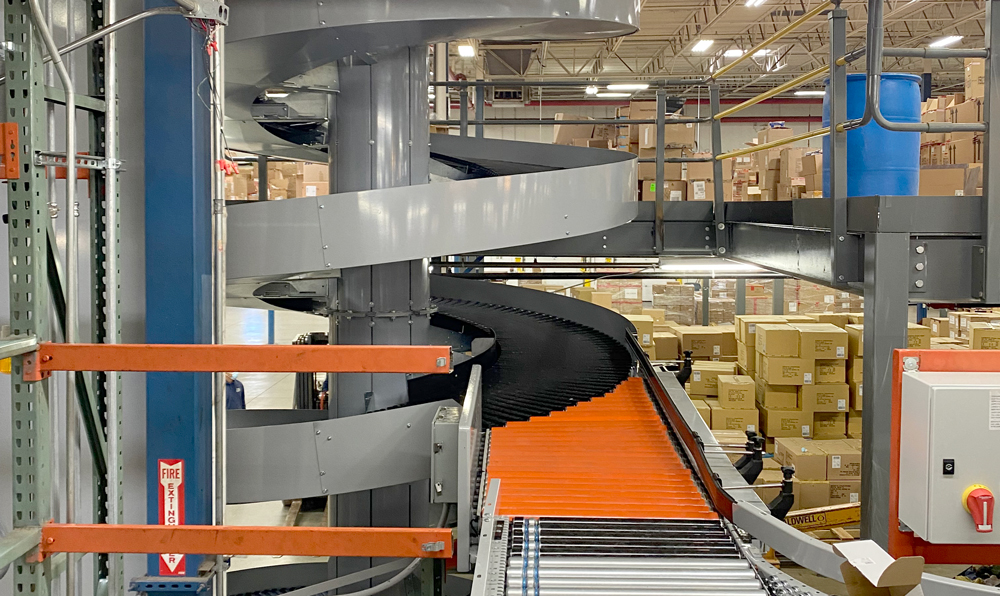 Integrated traffic controls are required for all Multiple Entry and Exit Spirals. There are some limitations with regards to the placement (location) of these ancillary conveyors so we encourage you to contact the Ryson sales team for layout assistance early in your project.
These conveyors are manufactured by Ryson and have the high quality and long life that our customers have come to expect from us.
All Ryson Spirals are thoroughly shop tested prior to shipment, but they do depend on proper integration with the overall conveyor system for optimum performance and long life.
Ryson Spiral Conveyors have many unique features that make them ideal Vertical Conveying Solutions. Many of our features are designed to save money in the long term, essentially lowering your total cost of ownership.
Design Flexibility: Our unique design offers flexibility of configuration. It also adds the ability to field modify to accommodate changing future needs at a fraction of the cost of a new conveyor.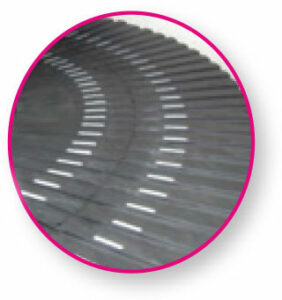 Overlapping slats provide a smooth and efficient conveying surface, ensuring gentle product handling and suitable for all types of conveyable items. Our efficient rolling friction chain-slat design only needs a single drive, resulting in substantial savings in energy, controls and systems integration.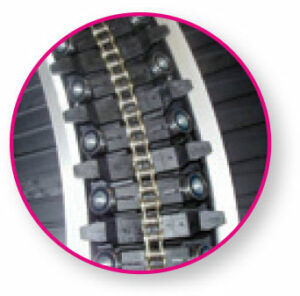 Our innovative chain-slat design enables a low friction operation without any sliding movements or wear-strips. This allows the Spiral to stop and start fully loaded.
Our efficient rolling friction chain-slat design only needs a single drive, resulting in substantial savings in energy, controls and systems integration.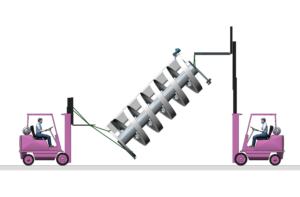 Most Spirals ship in one piece and leave our factory pre-assembled and pre-tested. Installation is generally an efficient process and reduces time for implantation and integration.
Our Spirals and components are designed for reliability, low maintenance and long life. They have an impressive up-time record reducing the total cost of ownership.
Click below to read details about more of our features: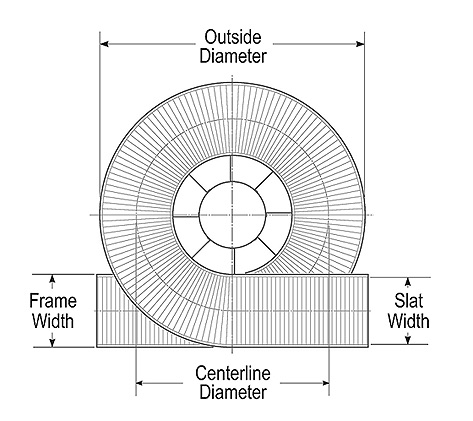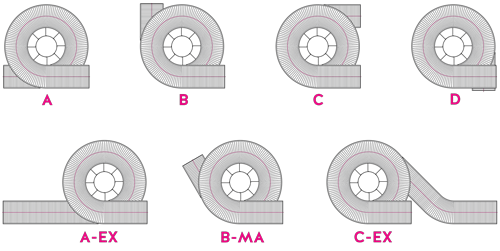 High Capacity / Wide Track Spirals
Ryson Multiple Entry and Exit Spiral Conveyors
Ryson Multiple Entry and Exit Spiral Conveyors at Distribution Center