The Ryson Slat Conveyor and Curves are ideal for inclines or declines in tight quarters and can handle multiple curves with one drive.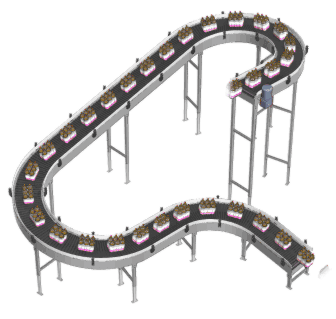 The Ryson proprietary chain slat arrangement become versatile and flexible slat conveyors when used outside a spiral conveyor. Only one drive is required for each 250 feet of conveyor, which minimizes the number of transition points required. This also significantly reduces the cost of controls and system integration.
Available in slat widths of 8″,12″, 16″, 20″ and 24″, they can also be configured as an oval shaped spiral, becoming a space efficient dynamic buffer storage device.
You can read some slat conveyor application stories on our weekly blog. More details on the Ryson Chain Slat arrangement are available under the spiral conveyors page.

High Speed Rotator:
A special conveyor using our Slat Conveyor design is the High Speed Rotator. It is an innovative conveyor for in-line rotating of cases and other unitized loads.
The loads can be rotated 180º or 90º in a continuous motion. This new slat conveyor is used in packing lines where products need to be rotated upside down or to one side without delay or product damage, The Ryson High Speed Rotator can accommodate a wide range of load sizes without adjustment.
Our Slat conveyors use the same tried-and-true technology and design as our Spiral Conveyors. Instead of a helical incline, this conveyor follows a custom specified frame from point A to point B. Be it in a straight line, or curvy, or inclining or declining – or all of the above.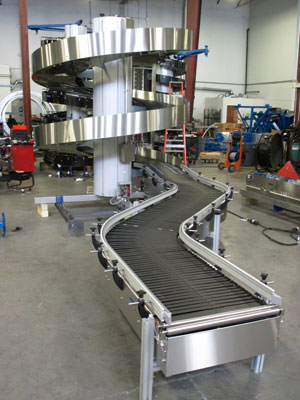 It is also possible to extend this from one of our Spiral Conveyors – as one piece, requiring a single drive to operate.
The proprietary design of our spiral conveyor and it's overlapping slat-style chain allows the slats to flex in either direction, so infeed extensions can curve in any direction as far as 30 feet.
The Ryson Slat Conveyor can have sharp turns while also inclining or declining, this can help reduce the number of ancillary conveyors and can transition product in a much shorter area than other kinds of conveyors.
A Slat Conveyor can accomplish line transportation and orientation, potentially replacing several other conveyors with a single unit. This can reduce the number of drives needed, which can save energy and simplify integration.
The Ryson Slat Conveyor is both reliable and handles products gently. The smooth conveying surface can handle many different sized and shaped products without the need for change parts or adjustments.
Add Your Heading Text Here