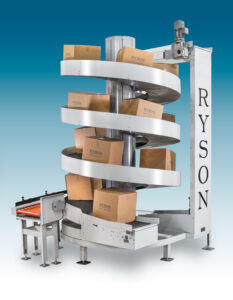 The multiple entry and exit spirals are equipped with slats that have special rounded friction inserts. They provide just enough friction to prevent products from back sliding without preventing smooth side movement during induction or diverting out.
Integrated traffic controls are required for all Multiple Entry and Exit Spirals.  There are some limitations with regards to the placement (location) of these ancillary conveyors so we encourage you to contact the Ryson sales team for layout assistance early in your project.
These conveyors are manufactured by Ryson and have the high quality and long life that our customers have come to expect from us.
All Ryson Spirals are thoroughly shop tested prior to shipment, but they do depend on proper integration with the overall conveyor system for optimum performance and long life. For more details on the Ryson Multiple Entry Vertical Conveyors, please visit our Ryson YouTube Channel, or read current news and installation stories on the Ryson Blog.