Ryson Spirals are Ideal Conveyors for Food and Beverage Applications
The Ryson Spiral Design is well suited in many diverse industries and applications. Our vertical conveyors are ideal in many Food and Beverage applications.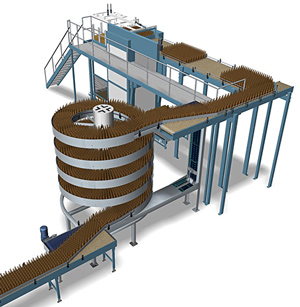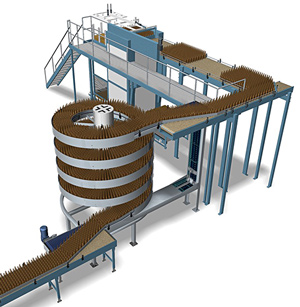 Our Mass Flow Spiral Conveyors can transport cans, jars and bottles vertically within a small footprint. The products are conveyed reliably up or down in mass at a rate of up to 2,000 units per minute. They are often used in bulk de-palletizing systems, and transporting from the filler to packaging, and retort operations.
Our Case Spirals are frequently used at end of line, when packaged products are transported from production to palletizing and distribution. They convey cartons, cases, trays, totes and all sorts of packaged goods up or down in a continuous flow. Our Case Spirals  offer solutions for varied product sizes. Ryson spirals are also commonly used in freezers, or out of a freezer to packaging.
The Ryson Narrow Trak Spiral is a super-compact vertical conveyor for handling smaller loads. The nesting slats can reliably end-transfer small cartons and packages or side-transfer small bottles or containers in a single file or in a continuous mass flow.  The spiral conveyors are equipped with  6" or 9" wide nesting slats which provide an efficient flat conveying surface without gaps.
All Ryson spirals are available in powered coated carbon steel, stainless steel, or hybrid versions. Our chain-slat arrangement can also be furnished with our proprietary solid lube bearings for wet environments.
For more detail about how Ryson Spirals are ideal conveyors for food and beverage applications, Check out the video below.
For more information about our complete line of vertical conveying solutions, visit our Spiral Conveyor page, read application stories on our weekly news blog, or check out more videos on our own YouTube Channel.