Visit us at Pack Expo 22 and Register for FREE
 Ryson will be exhibiting at Pack Expo 22 October 23-26.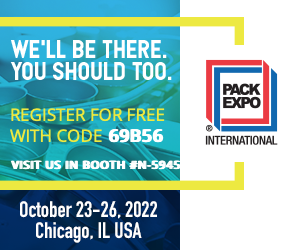 We will be featuring our Spiral Conveyor models and our Bucket Elevator. If you're planning on attending, visit us in Booth N-5945 in the North Hall.
We are pleased to announce that we can offer you FREE ADMISSION! Simply enter registration code 69B56 on the registration page.

Also we can set up a meeting through our Pack Expo Profile. Hope to see you there!
Ryson Spiral Conveyors need less floor space than conventional conveyors and are faster and more reliable than any elevator or lift.
Unit Load Spirals convey cases, totes and packaged goods smoothly on our slat style belts and come in 9 standard slat widths ranging from 6" to 30". Available in powder coated carbon steel, stainless steel, wet environment and freezer versions.
Mass Flow Spirals handle full and empty bottles, cans and jars in mass up to 2000 units per minute. Available in 5 different slat widths ranging from 6" to 20".
Narrow Trak Spirals are super compact and designed to handle your smaller loads. Our 6" and 9" wide nesting slats can end-transfer small cartons and packages or side-transfer small bottles and containers in a single file or in mass at speeds in excess of 200 FPM.
Ryson's Bucket Elevators combine vertical and horizontal transportation of bulk materials in one integral unit.
Ryson Bucket Elevators are designed for gentle handling and well-suited to transport a broad range of bulk products. Our signature feature is that they are completely enclosed with overlapping pivoting buckets, that prevent spillage and help mitigate foreign debris.
Their modular design enables us to customize with ease. They can be configured with multiple inlets or outlets that can be controlled individually. The design makes them easy to install and modify. Available in three standard bucket sizes, yielding capacities up to 300, 700 or 1,800 cubic feet per hour. They can also be delivered in powder-coated carbon-steel, stainless-steel or wet environment versions.
We hope to see you there!