Ryson Spiral Conveyors are available in either 3/4″ chain or a 1″ chain. Our standard capacity spirals meet the needs of most applications. However, there are certainly more demanding applications out there. That's when a Ryson High Capacity Model Spiral come in handy.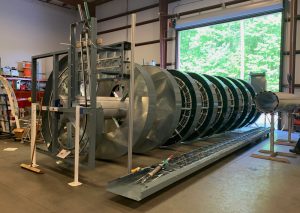 What are the limitations of the 3/4″ – standard capacity chain slat?
Well, there are a few. The weight capacity of our standard spirals is 75 lbs per linear foot. They have a total capacity of 1800 lbs, while still being able to start and stop fully loaded. Our standard capacity spirals are available in  12″, 16″, 20″, 24″ and 26″ wide slats.
On the other side, we have our high capacity chain slat. It features a larger 1″ chain. This allows the total weight capacity to reach 3,600 lbs. But still only requiring a single drive motor. They are available in 16″,24″, 30″ and 36″ wide slats. These Spirals are specifically designed to handle larger items. Additionally this allows a greater weight capacity. It also allows a greater elevation change and number of turns in the spiral. The Ryson High Capacity Spirals can go as high as 35′ with a single drive, and still start and stop fully loaded. They are ideally suited for warehousing and order picking operations. They can optionally be configured to allow loads to enter or exit at intermediate elevations.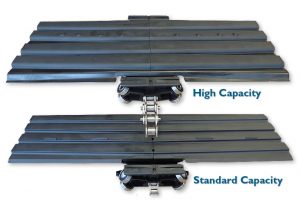 Both capacity models feature a proprietary overlapping slat design. This allows an efficient and safe conveying surface for cartons, cases, trays, totes and all sorts of packaged products.  They are also both engineered to have a low rolling friction operation without any sliding movements or wear strips on the spiral conveyor.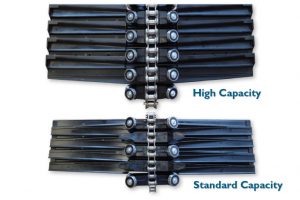 The conveying surface is pulled by a heavy duty steel roller chain. The slats are supported by precision steel roller bearings which ride on a polyurethane surface.  This arrangement effectively takes up the side forces created by a tight radius.
For more information about the different Ryson Spiral Models, see our Spiral Conveyors Page. View our YouTube Channel, or read current application stories in our weekly news blog.