The Ryson line of Spiral Conveyors are ideally suited for the fast-paced and constantly changing Consumer Packaged Goods Industry (CPG's). Our Modular Design allows them to be modified to adapt to emerging needs, and they have the best uptime record in the industry.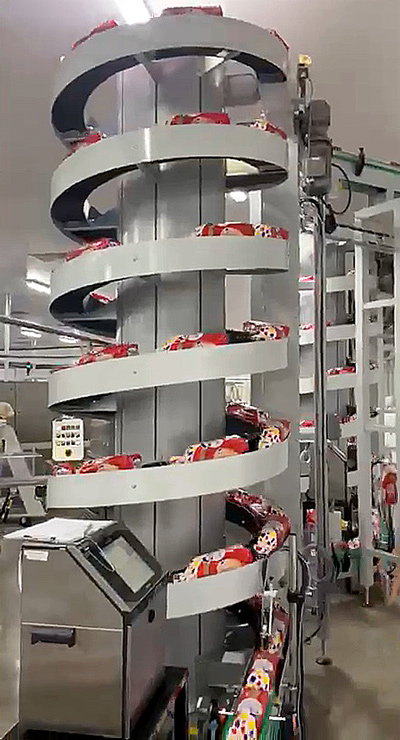 The Narrow Trak Spiral is our smallest model and are available in 6″ and 9″ inch wide slats. This makes them ideal for smaller packaged goods, like in this case, loaves of bread.
Panco is a family bakery in Brazil. They focus on specialty breads, snack cakes and cookies.  Their challenge was to vertically convey small loaves of bread up to a case packer on the second floor in as small a space as possible. Then use the case spiral to decline the full cases to the robotic palletizer.  In working with their integrator — Grupo Tecnor, the solution was to utilize a combination of the Ryson 1100-150 Narrow Trak (NT) spirals going up and a 1800-400 spiral going down.
The system has five Narrow Trak Spirals elevating the loaves 3 meters up to the case packer. They run at 100 fpm with about 50 loaves per minute.  The larger diameter 1800-400 case spiral will then convey the full cases at 25 per minute down 6.3 meters to the palletizer.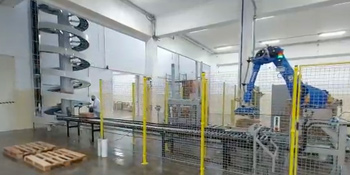 The smooth surface and nesting slats of the Narrow Trak with the tight transfer transition will gently and carefully convey the loaves smoothly and rapidly to meet their target production rates.  The flexibility and adjustability of speeds and capacity will accommodate new product lines and potential increases in future production.
You can read the story from when these spirals were on our manufacturing floor. You can also view the video below. This is a good lead into a video we produced, highlighting the features and benefits of Ryson Spirals, specifically as it pertains to the Consumer Packaged Goods Industry. Watch that below also.