Ryson is growing their Latin American customer base with increased awareness of our vertical conveying solutions.  This week we are shipping 6 spirals to a Brazilian bakery.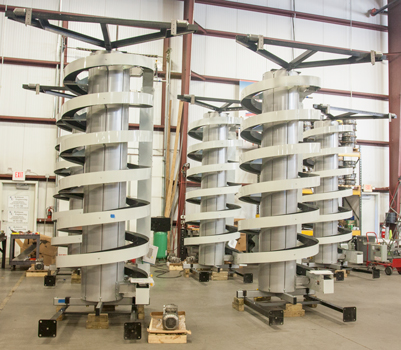 Panco is a family bakery that is 100% Brazilian owned. Founded in 1952 they focus on specialty breads, snack cakes and cookies.   They needed to convey small loaves of bread from 5 packaging lines up to the case packer located on a mezzanine level and then bring full cases down to the palletizer located on the shipping level.
The challenge was to accomplish all this within a very limited space.
Working in conjunction with their integrator — Grupo Tecnor in Sao Paulo Brazil — they have found the perfect solution. The obvious answer was to utilize a combination of the Ryson 1100-150 Narrow Track (NT) spirals going up and the 1800-400 spiral going down.  
Using the Narrow Trak Spiral which has only a 4'-2" diameter, they are able to elevate the loaves of bread approximately 10 ft. at 50 loaves per minute.  The larger diameter 1800-400 case spiral will then convey the full cases at 25 per minute down approximately 20 ft. to the palletizer.
The smooth surface and nesting slats of the Narrow Track with the tight transfer transition will gently and carefully convey the loaves smoothly and rapidly to meet their target production rates.  The flexibility and adjustability of speeds will accommodate increases in future production.
The tried and true design of the 400mm overlapping slats on the case spiral has proven itself to be a mainstay in all applications and will provide years of solid and reliable service with minimal maintenance and long life.
The Ryson compact Narrow Trak Spirals offer a significantly larger elevation change capacity than what is currently available in the small package marketplace. They are also a good alternative to side gripper conveyors because they can run at high speeds and do not need to be adjusted for varying product sizes. The Narrow Trak Spirals are especially beneficial for the food, beverage, pharmaceutical, nutraceutical, personal care market and food product companies.
Latin American Customer Base is a quickly growing sector for Ryson. We have dedicated staff that work primarily south of the border. Latin American orders are build in our manufacturing plant in Yorktown, Virginia and typically shipped via container to the end user.
For more information on the Narrow Trak Spiral models, visit www.ryson.com, download our product information or read more Narrow Trak application stories on our weekly blog.