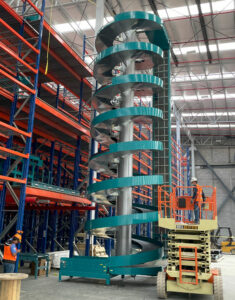 Mexico Spiral:  We recently installed some of our tallest spirals in Mexico. These Spirals also feature induction conveyors to introduce product at intermediate levels in a pick module.
Ryson offers an installation supervision package. One of our expert, trained service team members will oversee and direct the on-site installation. This is also beneficial, because all of our service team members are certified PMMI trainers. Therefore, they will take the opportunity to train the operators and maintenance staff on preventative maintenance. This helps ensure the newly installed spirals will run at optimal performance for a very long time.
We recently finished supervising and supporting the installation and start-up of 2 of our tallest and largest spirals. They were installed in the Mexico City Metro for a well know Mexican retailer. This project was implemented by our integrator partner Fortna. This four level pick module will use two 2200-760 spirals with 3 inductions each. This type of solutions is mainly used in e-commerce warehouses and Omni channel distribution centers. These units feature a 32' elevation change and operate using a single motor. Additionally, You can read more about the construction of these spirals here.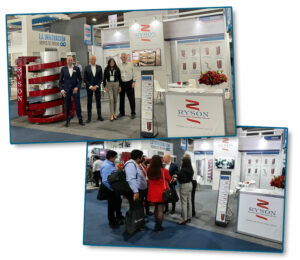 Speaking of Mexico, Ryson is at Expo Pack in Mexico City this week. Our Latin American market is continuing to strengthen. So it is always nice to connect with our Integrators and Customers in Mexico and the rest of Latin America.
The Ryson installation Package is available worldwide. This is possible, because we are a member of the Royal Apollo Group, that offers sales, service and support around the globe. For more information about our complete line of Spiral Conveyors, visit www.ryson.com. You can also read current installation stories on our weekly news blog.