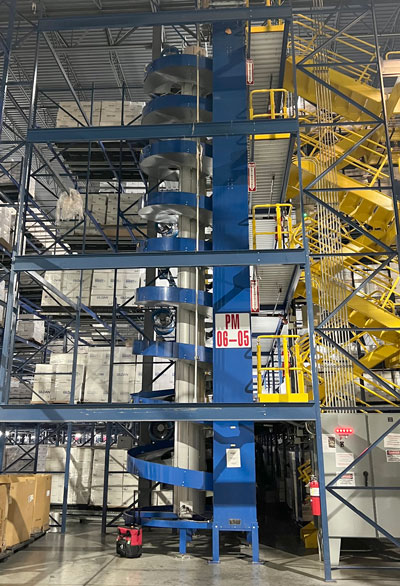 Last week we did an inspection and upgrade visit to a facility that was one of the first to adopt our induction conveyor design.  This distribution center has 10 spiral conveyors that are the backbone in a 5-level pick module.
Each of the spirals are equipped with 4 induction conveyors. Along with the natural infeed of the Spiral, this allows them to connect all five levels of the pick module. Using Ryson's induction conveyor design affords a very efficient use of overhead space and saves considerable floorspace when compared to traditional incline methods — or even multiple spirals. The overall operation takes place in a 220,000 sq ft distribution center.
Eight of the Spirals were installed in 2010 – which means that they have been in operation going on thirteen years. With an active maintenance team that performs regularly scheduled maintenance, Ryson Spiral Conveyors can last for a very long time. This is a significant part of their low cost of ownership, along with low maintenance costs.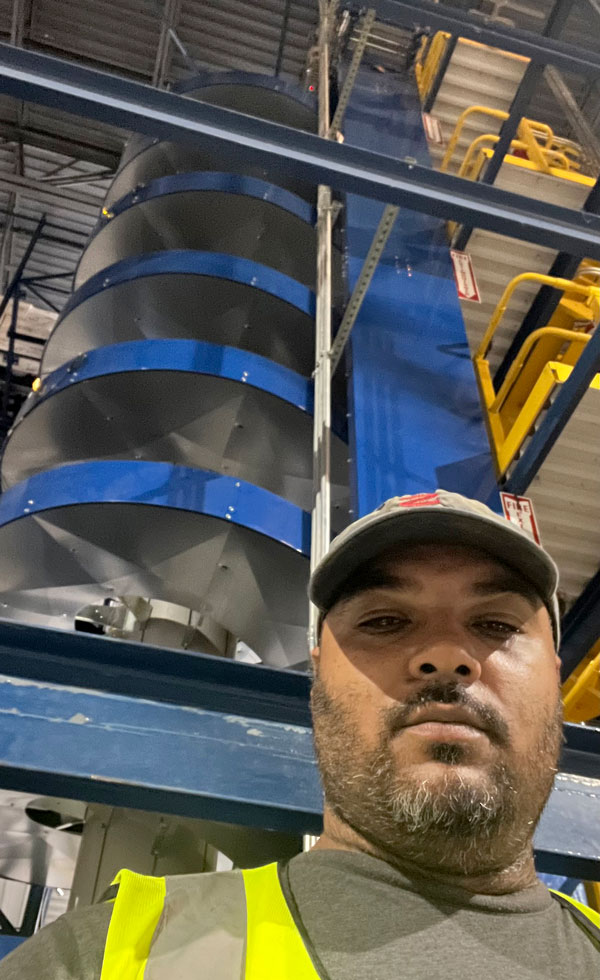 One of our PMMI Certified Trainer service technicians visited the site last week. He ensured that the Spirals were in good shape and replaced a few worn components. While on the site, he visited with their maintenance crew to refresh them on the recommended preventative maintenance items for their Spirals.
In our blog archives, you can read the original story from when we installed these Spirals . The End-user is Gildan, a clothing company. For more information about our Multiple-Infeed Spiral Conveyor System, check them out on our website, or read additional application stories in our weekly blog. We also have some nice application videos on our own YouTube Channel.