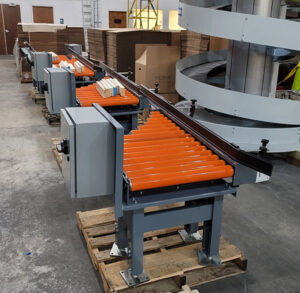 The Ryson Induction Conveyor is used to introduce product into our Spirals at intermediate levels.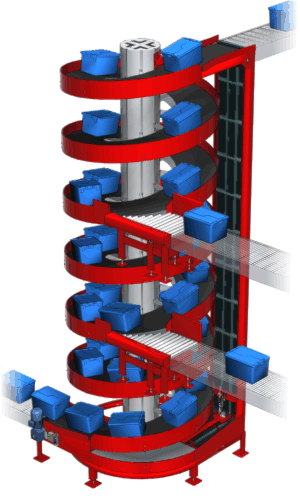 This increases efficiency and helps save valuable floor space. Several induction conveyors are often used on a singe spiral in a typical multi-level pick module. They are also used in the packaging industry to run multiple production lines into a single spiral.
In our constant pursuit of product development and improvement, we have implemented a new induction conveyor design. It utilizes motorized rollers instead of an array of belted conveyors. The main advantages of this newer design is that they are more durable, easier to maintain and enhance product stability for some products.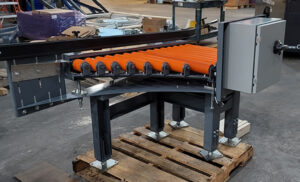 Some of our early adopters have chosen to upgrade from our belt-style version to the roller style version when they reached the end of their life. This is primarily because of simpler maintenance and replacement parts are much easier to replace with the new version.
A new controls package was also designed to make a recent customer's upgrade installation as easy as possible. It used the existing wiring that fed the motor on the older induction conveyor to power a 24vdc power supply and MDR drive card housed in enclosures. This eliminated the need to modify the main control panel.
This was a direct result of feedback from our customers. It highlights Ryson's commitment to product development, improvement and customer service. Find additional information about our induction conveyors, divert conveyors and how they are utilized for our multi level spirals. Visit our product page, download the spec sheet or read more application stories in our weekly news blog. You can also find some application examples on our own YouTube Channel.