Doug Glass has been one of the most indispensable employees of Ryson. Now after 20 years of dedication and diligence Doug is finally taking his well-deserved retirement.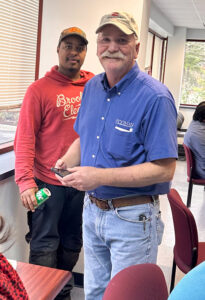 Doug started with Ryson as the service manager and controls programmer. Over the years with Ryson, he has proven himself indispensable. He would always take care of the people he supervised, and train them in any way that he could. It was always his desire that his service techs be home during any holiday, and would go through great efforts to make that happen.
The same ethos Doug had with his service team, he also had with our customers. Always doing right by them, even if it wasn't always the popular option. At the risk of sounding cliche, many of our customers will miss Doug as much as we will!
He was also a firm believer in the PMMI Certified Trainer program. He would require all his techs to go through that training. In fact, after he leaves us, he has chosen to work part time with the PMMI Certified training program. So at least we'll still get to see him at Pack Expo!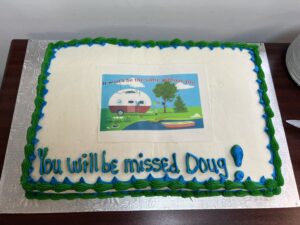 To celebrate Doug and all he has done for the company, Ryson hosted a company-wide lunch complete with a Doug-themed retirement cake.
For over 20 years Doug has been involved in getting our machines up and running at trade shows, programming PLC's, scheduling service technician site visits,  maintenance training, phone support for customers and even the maintenance of our building.
Thank you Doug, for all that you have done!  It is of course a bitter-sweet to say adios to such a valuable team-mate, but we are of course very happy for him. It won't be the same without you Doug. Best wishes and stay in touch!