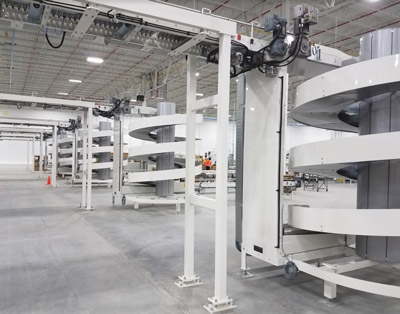 Last week, our service department conducted Ryson Maintenance Training at a new project site for a large manufacturer of packaging materials.
The customer had ordered ten Model 1700-600 Spiral Conveyors. The spirals were installed at the end of ten production lines, conveying finished product up to overhead conveyors which flows to the palletizing area.
The customer also purchased the additional start-up training package we offer. Our technician, certified by PMMI's training program, reviewed the preventive maintenance procedures and conducted a general product orientation with sixteen of the company's maintenance staff.
Part of the start-up package includes checking for proper spiral integration and make any adjustments required to optimize performance and longevity. In this case, minor issues were quickly corrected by their controls team.
We consider these site visits to be a win-win. It is an opportunity for us to show off our commitment to customer service and will ultimately decrease our customers' cost of ownership.
For more information on Ryson maintenance training and our commitment to customer service, visit www.ryson.com, and you can also read more service stories on our weekly blog.