A Ryson Multiple Infeed Spiral Conveyor is a ideal for applications that convey multiple production lines within a small footprint.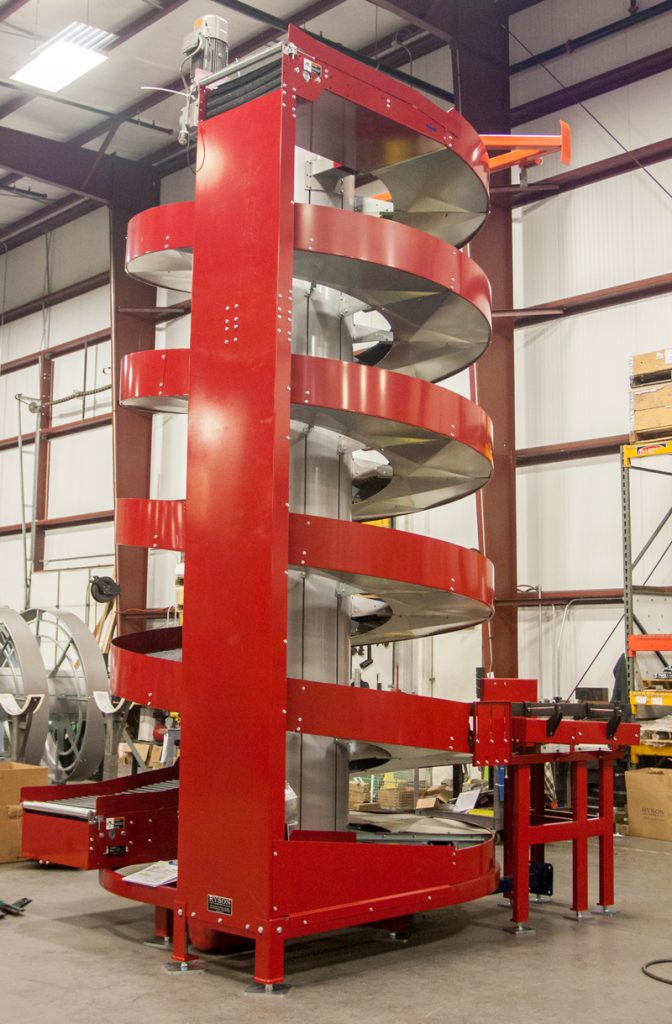 This week we shipped two multiple infeed spirals,  model HC1700-600's to a consumer products manufacturer for our Integrator partner, SelectPack. The line design by SelectPack featured two production lines running parallel to each other. Because the lines will never run at the same time, the space planning made our multiple infeed spiral the perfect choice, because it saved them valuable floor space and made implementation simple.
One case packer discharges small cases to the natural infeed of the spiral at 28" and totes of the same product enters on the other side of the spiral at 45" off the floor, when that line is running.
The spiral discharges at about 16 feet to the automatic palletizing cell. Because of the short cases that will run on the spiral, motorized rollers were added to the transitions to minimize the length of those unpowered zones. These spirals were shipped and will be installed soon, with the supervision of one of our PMMI Certified service technicians.
Find out more information about the Ryson Multiple Entry and Exit Spiral Conveyors, and how they can convey multiple production lines. Download the spec sheet, or read more application stories on our weekly news blog.