Spiral Conveyors are highly effective vertical conveyors that have a small footprint. Many spirals are used in food and beverage conveying operations where cases, trays, packs, bottles or cans need to be transported vertically.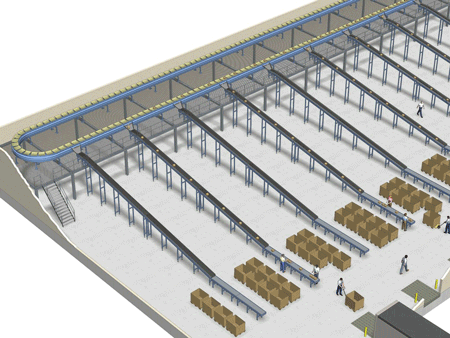 Spiral Conveyors facilitate an elevation change within a very small footprint. This saves considerable floor space when compared with conventional incline or decline conveyors. Floor space is at a premium in most beverage plants. The space savings Ryson offers often make it possible to expand within an existing facility or can help reduce the size of a new building.
Spiral Conveyors are also much faster than any elevator or lift. The spirals handle products in a continuous flow up to 200 feet per minute. Traditional case elevators can only handle approximately 20 cases per minute. Products of varying sizes can be handled without the need for change parts, minimizing changeover time.
Additionally, Ryson Spiral Conveyors have a very simple design, making them easy to operate and require very little maintenance. Many Spirals operate in 24/7 environments.  Ryson Spiral conveyors answer the demands of reliability, flexibility and high speed.
Spirals for Cases, Trays and Packs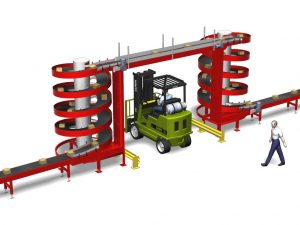 Unit Load, or Case Spirals are typically used in lines where an elevation change is needed. This  includes end of line and palletizing operations. They are perfect for multi-floor packaging lines and multi-level order picking operations. Also, many spirals models can be configured to handle more than one production line on a single spiral to help save even more floorspace. They are also frequently used to create forklift lanes to prevent land-locking between packaging operations.
Spirals for Cans and Bottles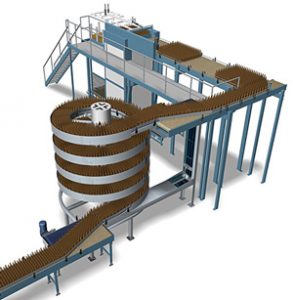 The Mass Flow Spiral is ideal for beverage conveying and can transport bottles or cans in mass or in single file. They are perfect for conveying empty bottles from a high-level de-palletizer down to a floor level filling operation. Another example is conveying  full bottles from the bottling line to pasteurizing or a packaging line at a different elevation. Mass Flow Spirals eliminate the need for space consuming Alpine Conveyors. Single-file Mass Flow Spirals can also replace side gripper conveyors ,which need to be adjusted for product changes and require frequent maintenance.
For more information about how Ryson Spirals are ideal solutions for Food and Beverage operations, check out the video below, visit our Ryson Spirals Page, or read about application stories on our weekly news blog. Ryson is also a member of Apollo Group, so sales, service and support is completely global.