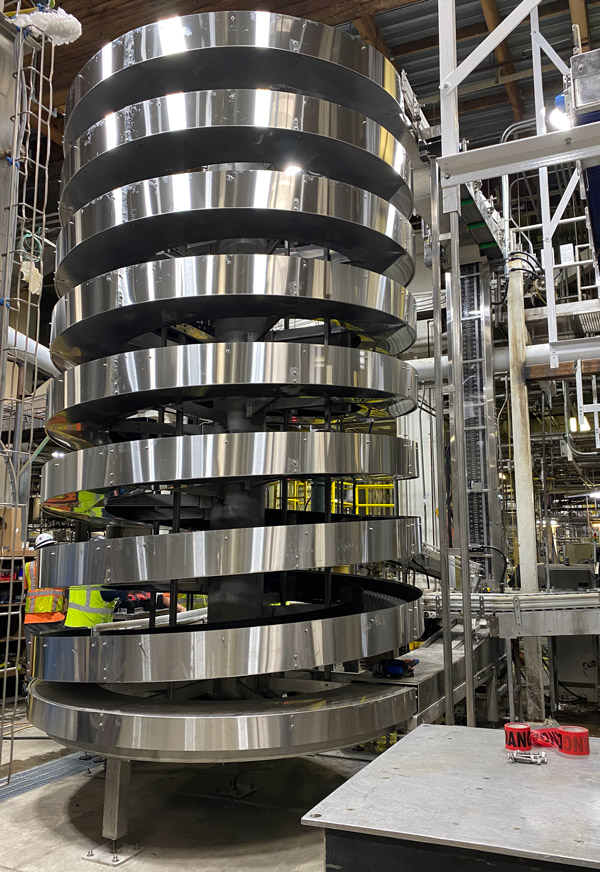 We recently finished the successful start-up of a new washdown mass flow spiral with our integrator partner, Can Lines Engineering. This model 2300-400 spiral conveyor has 7.5 turns – discharging at over 16' – and elevates hot-filled cans at a rate of 720 per minute. The spiral runs at 90 feet per minute.
This mass flow spiral features our all stainless steel construction with solid lube bearings suitable for frequent washdown applications.
Our proprietary spiral drive chain needs very little oiling, but for wash down environments, we can optionally supply custom oilers to replenish the lubricant washed away from cleaning. In this case, our control system energizes an automatic oiler (housed in a NEMA 4X enclosure) to re-apply lubricant to the drive chain, because the detergent dissolves it when the spiral is washed down.
One of our PMMI Certified technicians traveled to the end user site in Southern California to assist in the installation and subsequent start-up of the system. While there, he also trained the maintenance staff on proper preventative maintenance procedures of the spiral.
To find more information about Ryson Mass Flow Spirals, download the spec sheet, or read some new mass flow application stories on our weekly news blog.