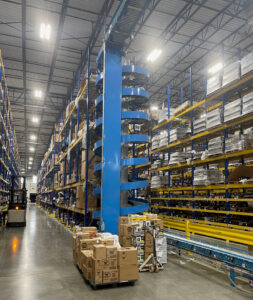 Last week, we conducted a service visit for one of our end-user customers . They had recently installed several Ryson Spirals. Our team inspected the spirals and ensured that they were properly integrated.
This is part of our total cost of ownership program. It also ensures the installed equipment is operating at the appropriate Ryson standards.
This customer specializes in the auto parts industry around the Nashville, TN area. The customer was very appreciative of our service visit. In addition, they learned a couple of tips that could help drive their production and performance up. Preventative maintenance and proper integration are two key factors that can help extend the life of our equipment.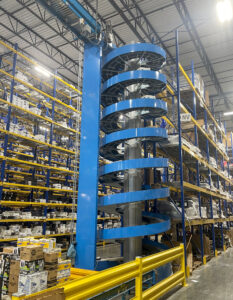 All of the installed spirals are our High Capacity models. These units are meant to handle heavy products ranging from 75lbs/ft up to 150lbs/ft. They can also handle a total weight capacity of up to 3,600 lbs.  The Proprietary rolling friction design of our spirals can start and stop as often as needed – even when fully loaded.
The Spirals at this facility are handling products with dimensions up to 27"x18"x24" and weigh up to 75 lbs. The facility caters to the e-commerce business. Therefore it requires high up time and reliability, while transporting a wide variety of loads … some of the biggest advantages of Ryson spirals.
It is always good to meet a happy customer. It is even better when we are able to add additional value during each visit. Find additional information about our full line of Spiral Conveyors on our website, newsblog, or YouTube channel.