Last week we shipped 3 identical multi-level spirals that will be installed in different ambient temperatures: (Room temperature, Cooler at 34 deg. F and Freezer at -7 deg. F) This unique application is a great opportunity to highlight the diversity of our spirals' capabilities.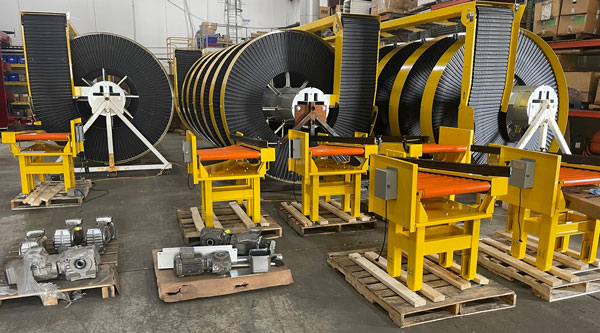 Our Standard Spiral can operate in temperatures ranging from 120ºF down to a little below freezing. We also offer specialized freezer spirals that can operate in temperatures down to -40º.
They will be installed and integrated by our integrator partner
Top Shelf Integrated Solutions
. The end user is a leader in the wholesale distribution of gourmet specialty food products. Each spiral will have 2 induction conveyors for levels 2 and 3.
These type of units are perfect for pick modules which are typically used for the e-commerce industry. This multi-level induction capability allows a single spiral to service multiple levels.These Model 1700-600 High Capacity Spirals can also start and stop fully loaded with product that can weigh up to 70lbs. The elevation change of these spirals is around 19' feet. They will convey a variety of product sizes  both in boxes and totes.
As with all of our equipment, these spirals and induction conveyors were tested in our facility. They were then shipped fully assembled and ready to be installed. Visit our
Multi-Level Spirals
page for more information. You can also read other
application stories
on our weekly news blog.