This week we shipped a Narrow Trak spiral for our Integrator Partner, Integrated Packaging Machinery. The spiral will be installed at an ice cream plant. It will be used to convey containers of ice cream down from a freezer at a rate of 120 per minute.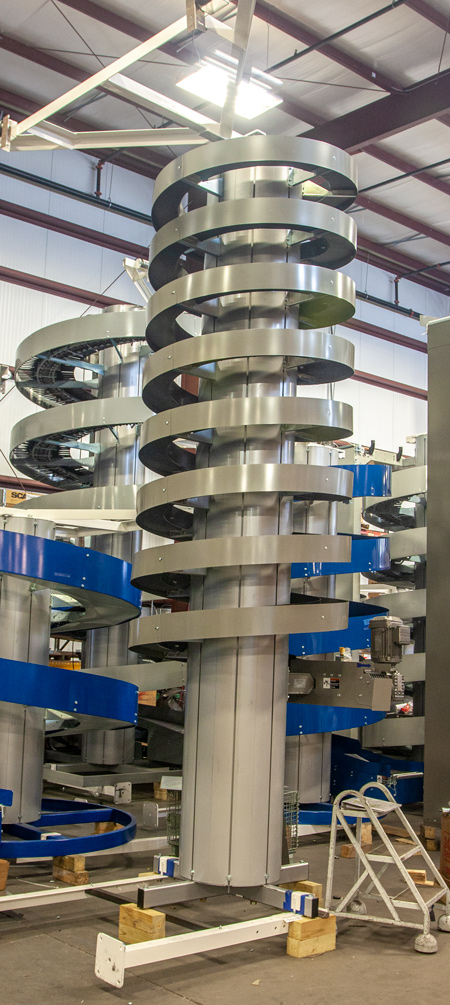 The spiral is a model 1100-150NT, and has a 10 foot elevation change. Also, it will run at 90 FPM. It is very common for integrators to use a Ryson Spiral to come from a freezer and deliver to the packaging area.
We also shipped a 1200-300 spiral. It will handle these containers shrink-wrapped together in a bundle. The end user asked IPM to spec Ryson spirals. This is because they already have several of our case spirals at the ice cream plant and are very satisfied with them. This will however be their first Narrow Trak Spiral.
Part of the advantage of our modular design is that each spiral is built to exact specifications. In the photo, you can see that the spiral discharge is at an elevated level. In this case it is to match the elevation of their shrink-wrapper.
The Ryson Narrow Trak Spirals are great space savers with high throughput that can run at speeds in excess of 200 fpm. Additionally, the nesting slats have the capacity to reliably end-transfer small cartons and packages. Or they can side-transfer small bottles or containers in a single file or in a continuous mass flow.  The spiral conveyors are equipped with our new 6" or 9" wide nesting slats. They provide an efficient flat conveying surface without gaps.
For more information about Ryson's Narrow Trak Spirals, visit our NT Page, Download the spec sheet or read more current application stories in our weekly newsblog.