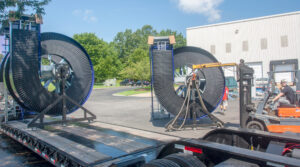 This week we used a step deck trailer to ship out the first in a series of large 2200-760 Wide Trak Spirals to an apparel company in North Carolina.
These spirals have a 30″ wide slat and an outside diameter base frame of 10′ which cannot fit on a standard shipping van. However they are within the legal limits of a wide load step deck trailer. Shipping this way will save installation and integration costs. It also save shipping cost by reducing the amount of trucks needed to transport these units.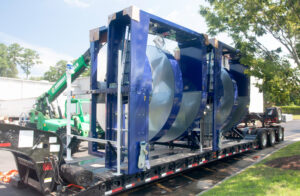 To facilitate the unloading, we photo-documented the rigging and loading procedure. We took photos and video documentation and sent it to the customer, so they knew what to look for when the shipment arrived. This is a part of our commitment to customer service and also an option to minimize installation costs.
After the spirals were loaded, the spirals were tarped and we sent them on their way.
These are the first of 12 Spirals that will be shipped to this apparel distribution center. The Integrator on this project is Wynright.
For more information about the our different models of spirals, you can download our model sizing guide. You can also read more information about our Wide Trak Spirals, or read additional application stories in our weekly blog.