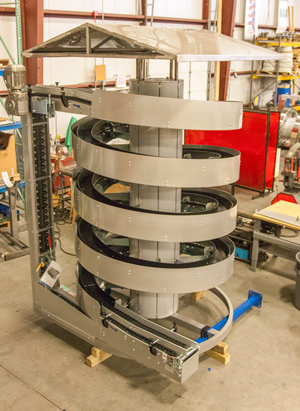 Custom Spiral Design: Spiral with Dust Cover. Next week we will be shipping a spiral conveyor built for our integrator partner Arrowhead Conveyor Corporation to a manufacturer of hand cleaning and sanitizing products.
The project involves elevating plastic pucks with empty bottles in them at at rate of 120 per minute on our 1600-200 spiral conveyor. To keep dust and debris from entering the uncapped bottles, we have designed a stainless steel canopy that bolts to our center tube. Under cover plates are installed under the entire length of the spiral, and the canopy protects the top turn.
The spiral also features inside and outside UHMW guide rails to create a channel for the pucks as they travel up the spiral.
The Ryson Design Team knows that each spiral is unique and built to exact specifications of the requirements of each job. Many practical solutions have been developed over the years, and the dust canopy is one of them. It is an example of our over all commitment to customer satisfaction. For more information about Ryson's Vertical Conveying Solutions, please visit www.ryson.com. You can also read more stories about some custom spiral design on our weekly blog.