This week, we performed some Spiral testing for a noteworthy spiral outdoors. Ryson has taken it to the next level one more time with its newest High-Capacity model, the 1900-600HC.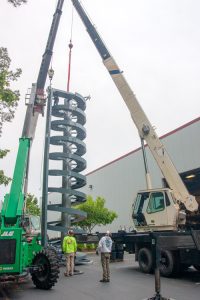 This 32' tall spiral will be installed by one of our  integrator partners, Honeywell Intelligrated. It will go to a major food distributor in the Denver area. Additionally, there are five similar spirals for this project. These spirals will be operating in temperatures ranging from ambient to -20 degrees Fahrenheit. They will convey boxes weighing up to 100 lbs.
Refrigerated food distribution centers are a huge growth sector. This model is ideally suited for these kinds of applications. They are able to reach the heights of modern multi-level pick modules, and can also perform in refrigerated and freezer environments.
These efficient units are geared and follow the same design standards as our other models. Our proprietary modular design utilizes super efficient rolling friction. This allows using a single drive which provides power efficiency. Additionally it has the ability to start and stop fully loaded with a maximum total load of 3,600 lbs.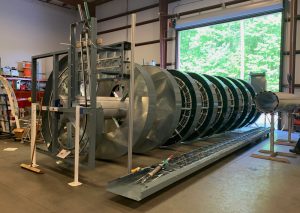 Part of our standard practice is to spiral testing on all our units prior to shipping. This assures everything was assembled properly. It also gives us the opportunity for optimal adjustments. This also helps reduce implementation time when it arrives on site.  This "testing time" also gives us the opportunity to take photos and videos that can be sent to our customers or used for future reference. This Spiral was tested outside because it is too tall to stand up inside our manufacturing plant.
At Ryson, we are always continuing to broaden our solutions. We always focus on quality, service, and ability to keep up with the demand of the industries we cater to. In this case, it was either go Big or Go home.
For more information on Ryson's Line of Spiral Conveyors, visit ryson.com, download our product line brochure, visit our YouTube Channel, or read current application stories on our weekly news blog.