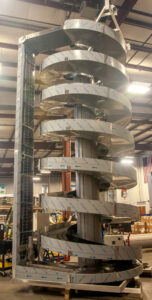 A common application for Ryson Spirals is conveying frozen food from the freezer to the packaging area.
We recently shipped two spiral conveyors for this kind of application. Our Integrator Partner, JLS Automation, needed to transport over-wrapped sliders from a freezer down to an automated packaging system. The end user is a food packaging manufacturer.
 Our 1800-650  model spirals take the frozen sandwiches in random orientation down 6 turns – 21 feet at 60 FPM. Ryson worked closely with JLS to ensure the transitions were integrated to prevent the frozen food from stalling at the transitions. The hybrid stainless steel construction is rated for a wet environment. They also include Nema 4X controls pre-wired to the spiral. This reduced the cost and time during the implementation phase of the project. Both Spirals include an inside guide-rail, an option that is available on all Ryson Spirals.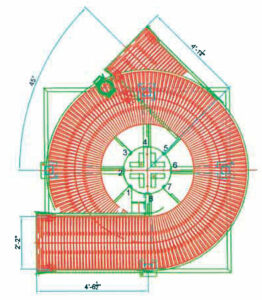 Our offset configuration allowed the spiral to work into the design of the layout, saving space and additional conveyor costs. Ryson's modular design allows custom configurations to aid in optimal layout and product flow. Ryson also offers many additional customizable options.
Find more information about our full line of spiral conveyors, download our spec sheet or read more application stories in our weekly blog.