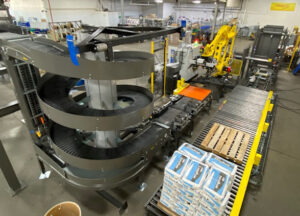 Heavy Loads for Ryson Spirals?
People often ask how much weight a Ryson Spiral Can Handle. Our High Capacity Spirals are designed to handle heavy loads up to 75 lbs. per linear foot. It can also handle up to 3600 lbs in the spiral at one time.
We got word back this week on the success of a spiral project shipped back in 2021 to our Integrator Partner, Pasco Systems. The spiral they installed lowers 70 lb. bags of cement at 25 units per minute to their robotic palletizer.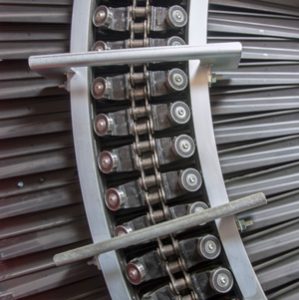 This High Capacity model HC1700-400 Spiral has a 16" wide slat surface. It declines the heavy bags down from 10'-4" at 135 FPM, and then delivers them to the robotic arm.
The project engineer at PASCO reported: "I wanted to reach out and let you know that your spiral worked out really nice for our concrete bag palletizing and I think it's one of the coolest infeeds we have done for a cement line."
Ryson's proprietary and innovative chain-slat arrangement enables a low friction operation in the Spiral Conveyor. The slats are also supported by precision steel roller bearings which ride on a polyurethane surface. This arrangement effectively takes up the side forces created by a tight radius. The load carrying capacity of the chain increases at the same time it . This enables the spiral conveyors to start and stop fully loaded.
The slats are made of a glass fiber reinforced nylon composite and are available in widths of 16″, 24″, and the  Wide Trak with 30″ and 36″. The slats can also be furnished with friction inserts when additional grip is required.
Finally , you can read more about our High Capacity Spiral Conveyors on our website, additionally you can read more applications stories in our weekly news blog.