The Ryson Spiral modular design and custom engineering allows them to be used in some unique applications, some where other alternatives are not as viable.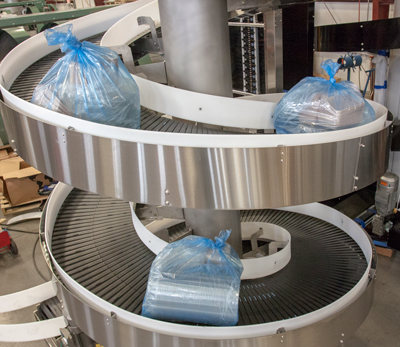 We're shipping this spiral out next week as part of an integrated system designed by our Integrator Partner Sierra Conveyor for a packer of fresh fruits and vegetables. The spiral declines bags of "pre-kitted" packaging materials (cups, clamshells, party platters etc.) to a sanitary packing line where the fruits or vegetables are put into those containers for delivery to retail food establishments.
Our 1700-600 all-stainless-steel design is outfitted with 6" tall white UHMW guide rail on the inside and outside of the spiral. Our 24" wide standard overlapping slats allow us to handle these loose plastic bags without getting caught in between the slats during their 10'-6" elevation change from the mezzanine picking area to the floor level.
This application is a good example of how our overlapping slats can provide a smooth conveying surface for less ridged loads. For more information on Ryson's Spiral design and different applications, visit www.ryson.com or our YouTube channel.