Ryson spiral conveyors support sustainable manufacturing in many ways.
The most obvious efficiency is against the traditional incline conveyor. The space savings is quite evident from the two comparative illustrations below. The spiral conveyor solution on the right layout needs  fewer motors making it 133% more efficient. With corresponding savings in energy costs, that can save substantial energy plant-wide. In addition, it saves on integration costs by simplifying wiring and safety controls.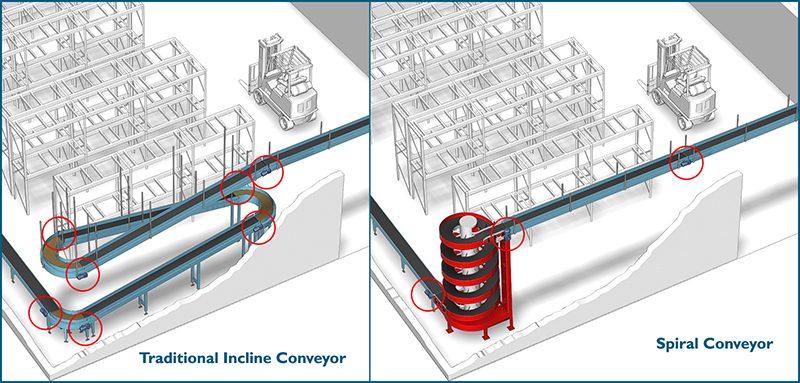 The proprietary rolling friction design of the slat chain makes the spiral conveyor extremely efficient. All Ryson products require little maintenance and have a very low noise level.  All bearings are sealed for life and do not need subsiquent lubrication. All Ryson products are modular in design and are easily convertible in the field to meet emerging needs. Visit www.ryson.com for additional information on Vertical Spiral Conveyors. You can also read more stories how Ryson Spirals can help lower your total cost of ownership.