Ryson is the Number One Manufacturer of Spiral Conveyors in the USA. We offer sales, service and support worldwide.
Ryson products include Spiral Conveyors, Spiral curves, Mass Flow Spirals, Continuous Lifts, Vertical Accumulation Buffers, Bucket Elevators, Incline and Decline slat Conveyors.
Ryson Spiral Conveyors need less floor space than conventional incline conveyors and are faster and more reliable than any elevator or lift.  They are especially well suited for Consumer Packaged Goods companies and any warehousing operations. All products can be delivered in powder coated carbon steel, stainless steel, wash down or freezer versions.

Ryson makes a full line of Spiral Conveyors that can satisfy most vertical conveying needs. Check out our 3D Virtual Spiral Conveyor tour and learn about our different models and their typical applications.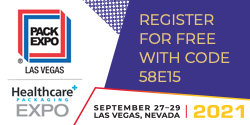 Pack Expo 2021 will return to a live event this year! It will certainly be nice to interact face-to-face again! Visit us in Booth C-4540.
Ryson is offering FREE Registration by clicking on this link. For more information about our booth, you can check out our virtual display on the Pack Expo site.
Learn More About Ryson Spirals
Request A Quote