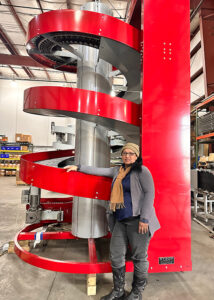 This week we had a noteworthy international customer visit. A new integrator partner from Nicaragua came to visit Ryson for training and getting familiar with their machine before it was shipped to their end user.
This is of particular note because this is the first American Spiral Conveyor sold in Nicaragua. There is a cultural and governmental incentive to buy local. So the clearance and approval to purchase from the US was monumental.
The integrator felt that it was imperative to send someone up to Ryson to familiarize themselves with our machines. They hope to be advocates for Ryson Spirals for future projects in Nicaragua. 
Ryson Training
Their Integrator representative, Giselle Araica – an engineer,  spent this week with us. She documented the build of the Spiral and then helped prepare it for loading into a shipping container.
She also received training on installation and maintenance, so they can  share that with knowledge with the end user. They hope to be the first contact for sales, installation and maintenance for future Spirals in Nicaragua.
The integrator on this project was Montacargas y Accesorios de Nicaragua S.A. (MANISA)- They recently got clearance to be a recognized intralogistic supplier, allowing them to import technology from other countries.
The end user is Dicegsa. Because of company growth, Dicegsa recently created a consumer products division. This project is their first consumer products operation and they are proud of their world-class standards. It is an order fulfillment company in the personal care industry. This 1500-500 Spiral will be used to span 2 levels of their modern pick module.
This is big news in that part of Latin America! It is also a great indication that Ryson's reputation for quality and longevity spans well past our borders. We wish Dicegsa all the success with this project and hope to work with them again real soon.
We always encourage customer visits. It is a win/win for all involved. For more information on our complete line of Spiral Conveyors, visit www.ryson.com.