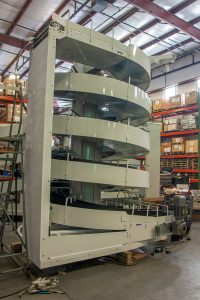 Ryson Spiral Conveyors have many customizable options. Center lane dividers are one specialized possibility. This week are a shipping a custom 3-lane spiral. It will help optimize floorspace and decline 3 production lines.
The customer, a large Consumer Products Manufacturer,  needed to lower three different production lines to the floor level packaging conveyor. Our Systems Integrator partner, AID Equipment Company,opted for our 24" wide 1700-600 model.   The spiral is special designed with an inside guide-rail. Additionally UHMW dividers are installed to create the 3 lanes. It will transport filled plastic bottles 70 feet per minute with an elevation change of 9 '-0".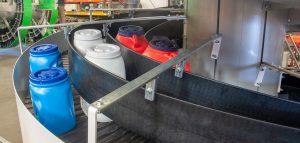 Our engineering department coordinated with the AID engineers to design the proper transitions for the  3-lane spiral. This ensures products will not stall in the non-powered space between the spirals and their adjoining table top conveyors. Special slats with additional friction inserts will be used to make sure the bottles do not change position on the travel through the spiral.
The slats are made of a nylon composite, need no maintenance and can easily be replaced as single components without the use of special tools. For more information on the many options available for Ryson Spirals, visit our Spiral Conveyors Page, or read other application stories in our weekly news blog.