This week, we shipped two of our largest Spiral Conveyor models  to a major home improvement retailer.  These spirals will convey small and large products between levels ranging from 12′ and 25′.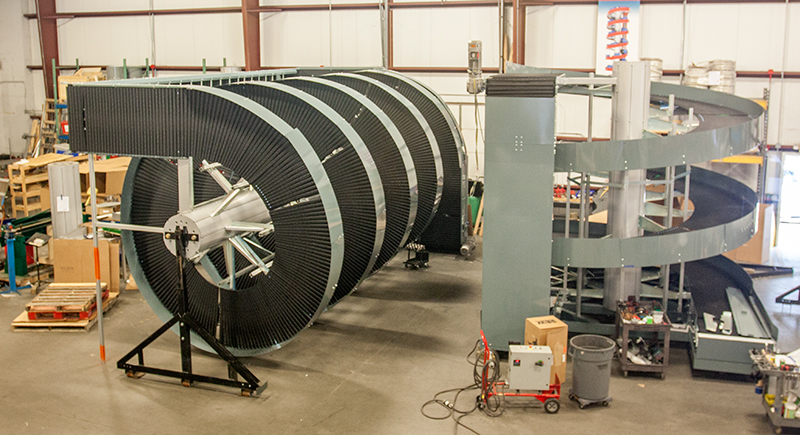 Our integrator partner on this project , Honeywell Intelligrated, ordered eight of our largest model Wide Trak Spirals to be delivered over the next month. They chose this model because the product sizes can go up to 48″x28″x40″ and can weight up to 75lbs.  The 3000-900 WT Spiral is Ryson's largest spiral with its 36″ wide chain and 13′ overall diameter, and will be running at 150 fpm..
Due to its size, these spirals will have to ship partially disassembled to fit in a truck and will require on site reassembly.  The WT spirals can be put back together, installed and fully integrated within few days. Ryson highly recommends on-site supervision by one of our trained, PMMI certified technicians. While there, we also recommend they train the maintenance team, as it adds value to our integrators and end users. All this is part of Ryson's effort to reduce our customer's total cost of ownership and maintain a positive relationship with our customers.
Our smaller models ship fully assembled but the Ryson Wide Trak Spirals require a greater  degree of disassembly to fit in a truck.  The Wide Trak models are specially designed to facilitate an easy reassembly which is made possible with our proprietary modular design.
The Ryson 3000-900 Wide Trak Spiral is the largest spiral we manufacture and features 36″ wide slat conveying surface. For more information about the Ryson Wide Trak Spirals, visit our Wide Trak page, download the product spec sheet, or read more application stories in our weekly news blog.