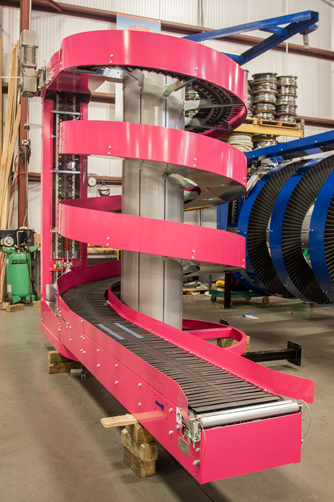 Using Ryson Spiral Conveyors in the beverage and craft beer market is getting some good attention. Such is the case with this highly visible spiral.
This week we shipped this spiral to a craft brewery in Indiana for our integrator partner Van Zyverden. It's color is called Tele-Magenta and will do the lifting in a state-of-the-art packaging line.
This spiral will elevate trays of beer cans from the production area to the packaging area at a rate of 60 CPM. The trays enter this spiral at 4'0″ and elevate them to an overhead conveyor at 11'6″. This 1300-400 spiral also has an extended infeed to minimize ancillary conveyors in the layout.
Ryson Spirals can be powder coated in most RAL colors, or stainless steel. Whatever your reason for choice of color, Ryson is happy to accommodate.
Ryson offers many custom options and configurations, color being one of them. If you would like more information on Ryson Spirals, visit www.ryson.com, or read more stories about custom color options on our weekly blog.