One of Ryson's commitments to excellence is that we run and test each unit prior to spiral shipping. This helps assure an smooth installation on site. The challenge is that some of the newer spiral models  we manufacture are taller than our building.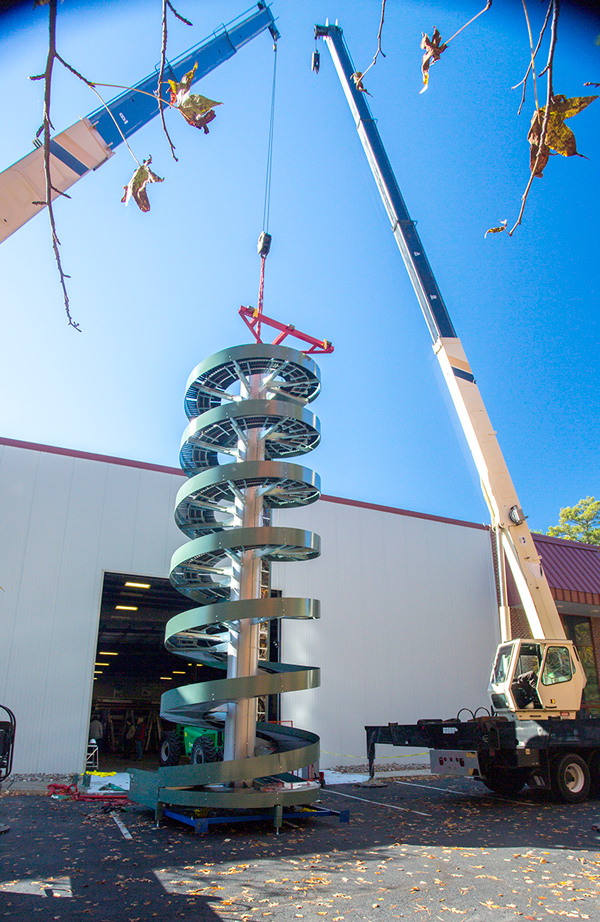 Last week, we shipped one of our tallest spirals, but had to test it outdoors. Thanks to our
new bay door
, this was made much easier to accomplish. 
This
2200-760 model
spiral features an over 30' feet elevation change and is equipped with a 30" wide slats. It will be conveying products of varying product sizes, but the key design consideration is that we had to have enough clearance between turns to convey a 40" maximum tall carton.
This unit uses our standard modular design and only requires one drive motor only to operate at speeds up to 200 fpm. The weight capacity is at 75lbs. per foot with a maximum capacity of 3,600lbs fully loaded.
Power efficiency is the name of the game and it is part of our constant effort to lower the total cost of ownership to our end users.This project was built for our integrator partner
Siggins
to be installed in a warehouse for an industry leader in the storage industry. This spiral was shipped on a flatbed in one piece to minimize the reassemble and installation time on site. 
Before Spiral shipping, live FATs and video FATs are available upon request. find out more information about
Wide Trak shipping
and
site support
, on our weekly news blog.