Most Ryson Spirals are shipped in one piece pre-assembled and pre-tested, drastically reducing the time and cost of installation.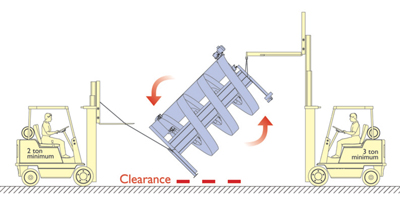 Ryson Spirals are Easy to Install: Ryson spirals are shipped in an A-frame equipped with casters, making it easy to unload and transfer to the installation area. Two reinforced fork pockets are provided to facilitate horizontal forklift handling. The top end of the center tube is used for rigging when standing up the spirals.
Since most spirals ship in one piece, no on-site assembly is required. The saves much time and resources at installation time. You can also get them pre-wired to your specifications. Literally, stand the spiral in place and plug it in.
If you would like more information, you can visit www.ryson.com, download our installation guide or watch our installation video below.