Last year, Rogue Ales & Spirits purchased one of our demo spirals for a deep discount. They needed a spiral conveyor because their old case elevator was the bottleneck of their packaging line. Once it was replaced with a Ryson Spiral, they couldn't be more pleased.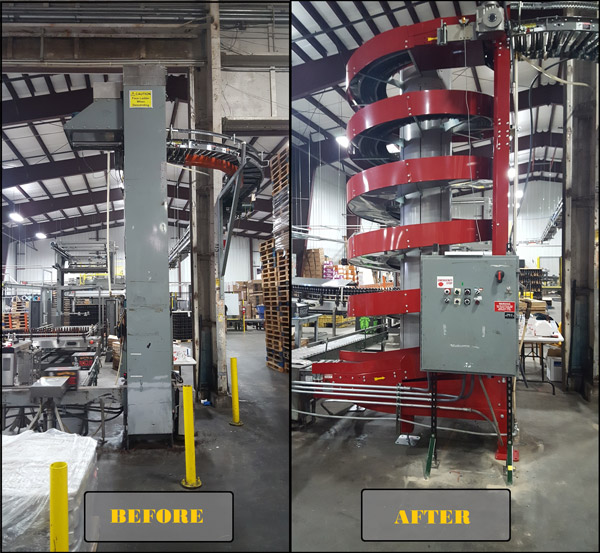 David White, their "Master of Disaster" (or production manager in layman's terms) put it like this: "The old case elevator would fail for various reasons about 5 or 6 times a day, with an average of 10 to 15 minutes of downtime per event. —  adding up to an hour downtime every day. We would lose quite a bit of production…"

"… The old case elevator was limited by the cycle time of the air cylinder. The fastest I could get it to cycle was once every 3 seconds. So the maximum throughput was 20 cases per minute." White explains. " When we were running our 22-ounce bottles it could only handle 240 bottles per minute because those cases only have 12 bottles each.  This Bottleneck would cause our accumulation to fill up quickly when we were running 22-ounce bottles, even to the point of stopping the filler once or twice during a run. Our filler maximum speed is 400 bottles per minute and the minimum fill rate is 200. With the new Ryson Spiral Conveyor, I don't even know the last time it stopped the flow of cases."
This is a fantastic example of how Ryson Spirals can increase throughput and reduce downtime…  Ultimately lowering total cost of ownership. For more information about Ryson Spiral Conveyors, please visit www.ryson.com. We would also like to express our appreciation to Rogue's David White for his enthusiasm and contributions to this story. Check out where he works!