Distribution, Warehousing and The Order Picking System are Common Applications for Ryson Spiral Conveyors.
The above video shows three Ryson Vertical Spirals in a rather unique setting. There was limited space available for the storage system, but our integrator took advantage of the 50 foot clear height of the building when designing a four-level pick module, using Ryson Spiral Conveyors to make maximum use of the Order Picking System "cube".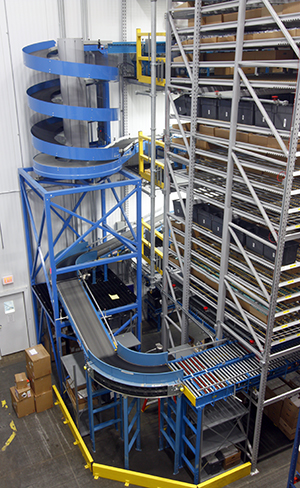 Empty plastic totes start the picking operation on level four. Then a conveyor brings them to the first spiral declining them to level three. The spiral is on a structure that supports itself and the spiral declining the totes from level two to the first floor.  On the other end, a spiral built on an extended height platform supports the declining spiral, transporting totes from level three to level two. (see photo) The use of our vertical conveying systems saved valuable space,  maximizing the number of SKU's that were able to be stored and picked in the storage system.
Our Systems Integrator on this project was Abel-Womack, for their client, a major healthcare products manufacturer in New England. They produced a nice case study about the project if you would like more details. For more information on Ryson Spirals and how they are used for vertical conveying in warehousing and distribution centers visit www.ryson.com.