Ryson offers two versions of stainless steel spirals that are suitable for wet environments. One has and all-stainless frame and structure. The other is a hybrid version where the center tube is our standard powder-coated aluminum construction and some of the components are zinc plated.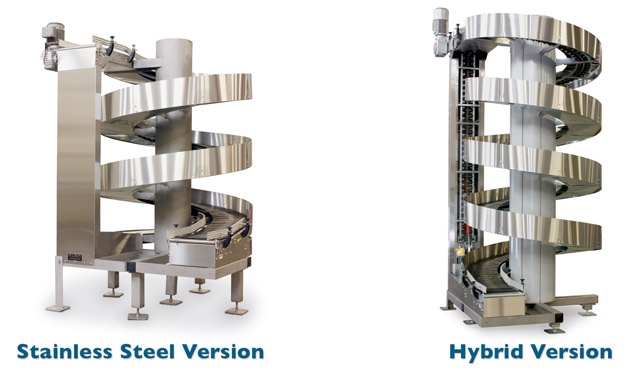 Both versions can be equipped with either regular stainless steel bearings suitable for wet environments or stainless steel bearings furnished with our proprietary solid lubricant for more aggressive wash-down environments. 
Wet Environments: Care should be taken when cleaning spirals with our regular stainless steel bearings. Strong detergents, foaming cleaners, alcohol based cleaners, detergent based transfer liquids and high pressure or high temperature cleaning liquids will, over time, dissolve the grease in the bearings and chain, resulting in reduced operating life of the bearings and chain assembly.
The conveying surface should only be cleaned with a mild cleaner and rinsed with a low temperature and low pressure water. For more information on Ryson cleaning procedures for wet environment spirals, refer to the Ryson Maintenance Manual.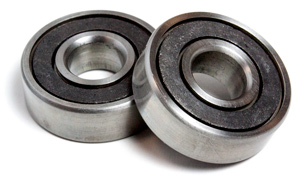 Wash-down Environments: For more aggressive wash-down requirements, we recommend our stainless steel bearings with a new proprietary solid lubricant which is impervious to detergents, mild acids and bases.  These bearings have no seal and can run completely immersed in water at any temperature and still provide lubrication for the life of the bearings. Such spirals will also be equipped with an automatic oiler to re-lubricate the chain assembly after cleaning. 
Ryson Spiral Conveyors are designed to handle packaged goods. Our Spirals are not intended to be used in direct food contact applications and do not comply with all USDA / FDA sanitary design requirements.
Read some stainless steel application examples from our weekly blog. For additional information, please visit www.ryson.com or call our sales department at 757.898.1530.