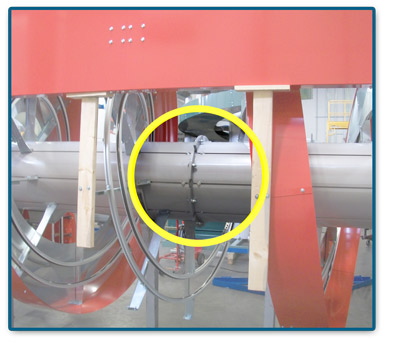 This week Ryson is shipping a spiral with a custom solution to an installation challenge in a meat processing plant in Kentucky.
During the integration review conference call with our Integrator Partner – BoxLogix Automation, his client and the electrical controls engineer, it was determined that there was a low hanging interference above the installation spot. This would prevent the spiral from being lifted into position fully assembled.
The Ryson design team re-designed the spiral to ship in two sections, which would allow the installer to hoist the upper section in the air, while positioning the lower section, then bolting the two  sections together. This spiral was also pre-wired, reducing the implementation time on site. One of our service technicians will assist the millwrights on site in the installation effort, assist in the start-up of the spiral and train the end-user's maintenance and operations staff in the care and use of the machine.
Ryson is dedicated to work with our integration partners to find effective solutions for vertical conveying. If you have an application, the Ryson Spiral Team would be happy to assist with questions and design suggestions. For more information, please visit www.ryson.com.