Ryson offers pre-wiring and controls options for you. This feature reduces installation and integration time.
Pre-Wired motor disconnect switch- mounted and wired (EMT)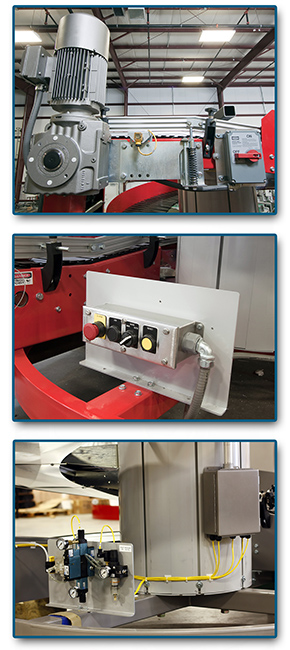 Pre-Wired motor disconnect switch with Chain Tension and Motor Overtorque sensors pre-wired to a common terminal enclosure
Available in EMT or rigid conduit
Missing Slat Detector and Air Tensioner Controls can be included
Self-Contained Control Package
One stand-alone NEMA 12 painted steel enclosure with EMT conduit
Allen Bradley MicroLogix 1000 PLC
Allen Bradley PowerFlex 4 VFD
Jam (or line-full) sensor at the discharge transition (pre-wired)
Control panel includes
Illuminated "start" Pushbutton
"Stop" Pushbutton
Illuminated Fault Light
"Reset" Pushbutton
Auto/Manual Selector Switch
"Jog" Pushbutton
Alarm Horn
Mushroom E-Stop Pushbutton
Panel mounted lockable disconnect switch
For more information about Ryson Pre-wiring and Controls Options, Visit www.ryson.com.