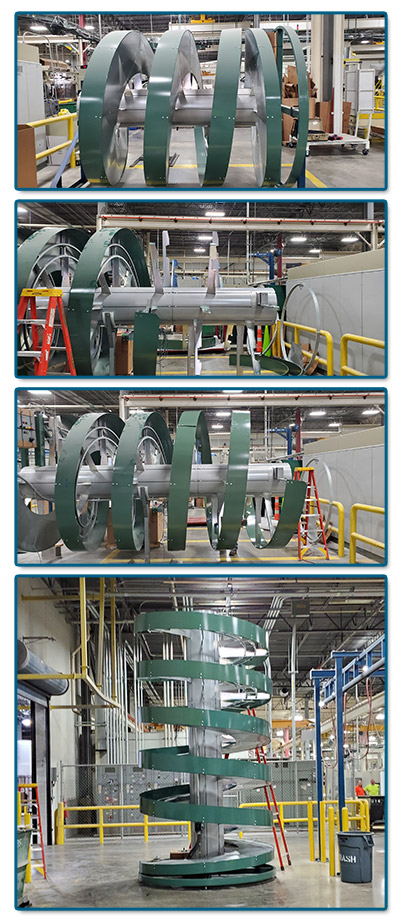 Ryson Spirals are completely modular, which makes them simple to reconfigure or field modify when the need emerges.
Earlier this month, after shipping one of our model 1700-600 spirals to a major paper converting manufacturer, we got word that the discharge elevation specified on the spiral needed to be changed. In fact, it had to be five feet taller.
We quickly quoted Bastian Solutions, our integrator partner on this project, the cost for adding two turns to the spiral already delivered to the facility. Within three weeks we had our technician with replacement parts on site ready to field modify the spiral and supervise the final installation to the line.
The Ryson modular design makes it easy to field modify our spiral conveyors in case of unplanned installation changes or to reconfigure and repurpose the spirals at a later date. It is a highlight to our value proposition and can help lower your total cost of ownership.
Many times our ability to field reconfigure has saved ample time and money. This feature benefit one of the reasons Ryson is the first choice when it comes to Spiral Conveyors — It is not possible with many of our competitors equipment. For more information on Ryson's Modular design, visit our Spirals Page on our Website, or read more reconfigure stores on our weekly news blog.