Ryson Spirals come in different sizes and each model has a specialty. Our slat widths rage from 6 inches on the small side, to 36 inches on the big side. Our product line allows case handling spirals for virtually any size product.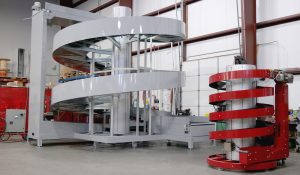 We are getting more and more Wide Track orders – available in 30″ and 36″ wide tracks, because they are ideal in the E-commerce and warehousing markets and, in conjunction with our ancillary induction and divert conveyors, are perfect solutions for pick module functions where various box sizes flow on the same lines. They can quite literally handle a "lawnmower in a box" and a box of gloves on the same conveyor.
On the other side of the spectrum, we have our Narrow Trak Spiral, which handles small units, ranging from small consumer packaged goods to cans and bottles. They can run at high speeds and are well suited for small and light boxes. They are ideal for food, beverage, pharmaceutical, nutraceutical, personal care market and food product companies.
The nesting slats have the capacity to reliably end-transfer small cartons and packages or side-transfer small bottles or containers in a single file or in a continuous mass flow.  The NT Spiral Conveyors are equipped with our new 6" or 9" wide nesting slats which provide an efficient flat conveying surface without gaps.
Read more information about the Ryson family of products. You can also read weekly application updates on our own news blog. You can also view more videos on our YouTube Channel.