This week Ryson is exhibiting in PMMI's ExpoPack in Santa Fe, Mexico. We have been present at this show for years, and the Ryson brand is steadily growing in Latin America.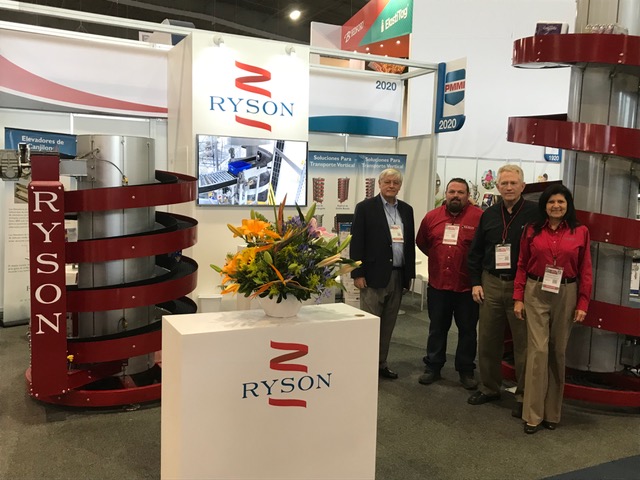 This year, Ryson is running two spirals at the booth. The first is a spiral model 1200-300 which is common in high-speed packaging lines. It features a 12″ wide conveying surface.
The second spiral is a model 1100-150 NT. The Narrow Trak is ideal for reliable transport of smaller packages at the same speeds. This model features our 6″ wide interlocking slats that can reliably end-transfer small cartons and packages or side-transfer small bottles or containers in a single file or in a continuous mass flow.The Narrow Trak Spirals offer a significantly larger elevation change capacity than what is currently available in the small package marketplace.
The show puts more than 23,000 customers/buyers from Mexico, Guatemala, Costa Rica, Colombia, and others under one roof. Attendees are packaging and processing professionals from a wide range of industries, including food, beverage, pharmaceutical, personal care, and more. PMMI's EXPOPACK México offers direct access to the packaging and processing industries in Latin America attracting buyers from throughout the region.
For more information on Ryson Spiral Conveyors, visit our website at www.ryson.com.