This week, we're shipping a reversible Spiral Conveyor to a large CPG Products Manufacturer for multiple uses.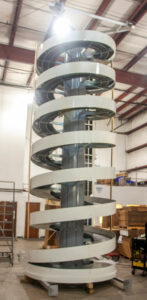 This 6.5 turn model 1600-500  with a 20" wide conveying surface has a primary purpose to transport rejected cases down from a mezzanine level palletizing system. This Spiral will replace an existing gravity chute. The secondary purpose of this 21 foot tall reversible Spiral Conveyor is to transport parts and supplies back to the mezzanine. This includes motors that may weigh up to 60 lbs.
Our innovative slat belt design enables a low rolling friction operation without any sliding movements or wear strips on the spiral conveyor.  The belt is pulled by a heavy duty steel roller chain and the slats are supported by precision steel roller bearings which ride on a polyurethane surface.  This arrangement effectively takes up the side forces created by a tight radius and at the same time increases the load carrying capacity of the belt up to 75 lbs per linear foot. They are also very quiet and can start and stop fully loaded.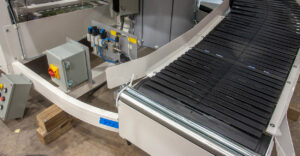 The project also required pre-wired controls. This is because the customer requested an interface at both the infeed and discharge levels of the spiral. Our controls and engineering departments were successful in dealing with supply chain challenges and managed to meet a very aggressive delivery schedule.
For more information about our complete line of Spiral Conveyors, visit our Spiral Conveyors Page, or read more application stories in our weekly news blog. We also have many applications videos on our own YouTube Channel.