This week Ryson hosted an FAT (Factory Acceptance Test) for the project and engineering managers from our Integrator partner Shuttleworth. They visited our manufacturing plant to inspect six spiral conveyors that will be added to new production lines at a major food company. This company already has several Ryson Spirals in operation.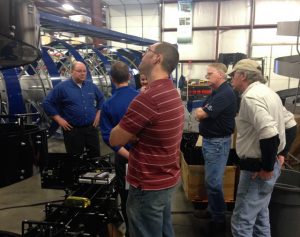 Repeat business is one way we measure success in our markets. During our last fiscal year the majority of Spirals delivered were repeat orders. It is a sure sign that companies are satisfied with the Ryson brand and confident in our commitment to quality, longevity and customer support.
You can read about the original order here. If you would like more information about Ryson's vertical conveying solutions, please visit www.ryson.com.