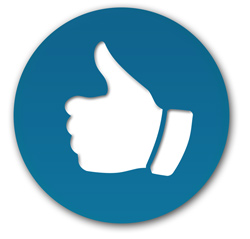 We are committed to Ryson customer service. We believe that a superior product needs to be coupled with excellent customer service – before, during and after an order. Our engineering, sales and service teams work tirelessly to ensure our customers' satisfaction, and knowledge of our product.
It is always gratifying to hear positive results from these efforts. This week we would like to highlight a few recent cudos.
" Jeff did a great job yesterday. He shortened the chain on the shorter spiral first and did the taller spiral second with the L'Oreal maintenance guys. He was very professional and addressed all of the maintenance guys questions. I went through the training that he gave and I learned a lot myself. Jeff did such a good job that I could actually do this maintenance, and will tell you that I might have some problems with changing a bicycle chain if I had to. He also spent some time with our lead installer to give him some tips on how to install the Ryson "S"  curve that we need to install later. Jeff said that he was scheduled to be there today but I think we accomplished all that we had on the list yesterday so we released him yesterday at about 4 PM. "   Steven Wronski, Project Manager W&H Systems
"Let me congratulate you and your organization on your training programs and materials.  As a Polytron Certified Instructor and a PMMI Certified Trainer myself, and more importantly as a student of training by your company and many others, I can say that your training methods and materials are head and shoulders above what is typical for most equipment vendors. Thanks again and Keep up the great work." Robert Kriner, Senior Technical Trainer, Polytron Certified Instructor, Polytron
"I wanted to reach out and thank your organization for the tremendous response to our breakdown…The breakdown, which was completely of our own doing, had put (our start time) in jeopardy. The quickness of your plan and willingness of your tech, Jason Fernandez, to rent a truck, load every part you thought we may have needed, to drive thru the night and start working as soon as he arrived allowed  us to have the spiral up and running by the end of the day Tuesday. We started production on Wednesday morning and we able to starting shipping the product on time…I personally want to thank you and Jason for going above and beyond to make this happen. Thanks again." – Michael Gaesser, Director of Packaging Innovation, NAbreweries
Please visit www.ryson.com to learn about our vertical conveying product line and our commitment to customer support.