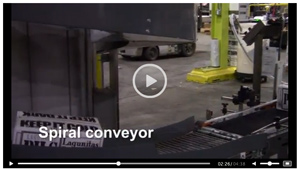 Recently PACK WORLD Magazine featured an article about a new craft brew installation near Chicago. Read the Story:
Lagunitas recently built a 2nd brewery on the West side of Chicago, and PACK WORLD reported an extensive description of the equipment used to get this 300,00 square foot facility up and running. Ryson worked with Intelligrated to move cases from the production floor to the palletizer. The article provides a great snapshot of how Ryson's Vertical Conveying Solutions benefit the beverage industry.
Ryson spiral have become a critical part of modern beverage operations. Ryson Spiral Conveyors need less floorspace than conventional incline conveyors and are faster and more reliable than any elevator or lift. Reliability and ease of maintenance are critical factors in the beverage world that often operate 24/7.
High throughput capabilities and the ability to operate within a small footprint are critical efficiency factors. The spiral conveyors can also handle a wide variety of product sizes without equipment adjustments or change parts. For more information on Ryson's Vertical Conveying Solutions, please visit www.ryson.com.