Overwhelming Response to Ryson's Multiple Entry Spiral Conveyors.
Ryson brought the new Multiple Entry Spiral Conveyors to exhibit this year at NA2010. Systems integrators and end users alike were impressed with the design and immediately saw the potential for multi-tiered product flow with a very small footprint.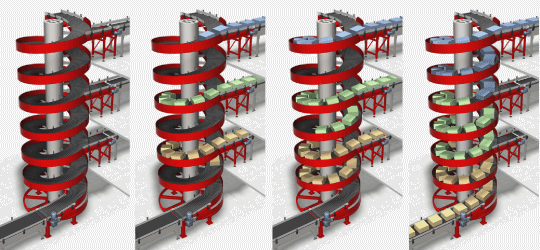 The Multiple Entry Spirals allow loads to enter the spirals from several different elevations. A new high speed induction conveyor provides controlled spiral entry. The conveyor belts are individually adjustable to match the spiral pitch. Traffic controls are required to prevent loads from different levels colliding in the spiral. Please visit ryson.com  to read more about our multiple entry spiral conveyors. You can also download the Multiple Entry and Exit Spiral Brochure, and read application stores on our weekly blog.