This week we are completing a tall spiral order from our integrator partner Bastian Solutions. The 4 spirals highlight the flexibility of our modular design, and how their custom options can help optimize your production layout.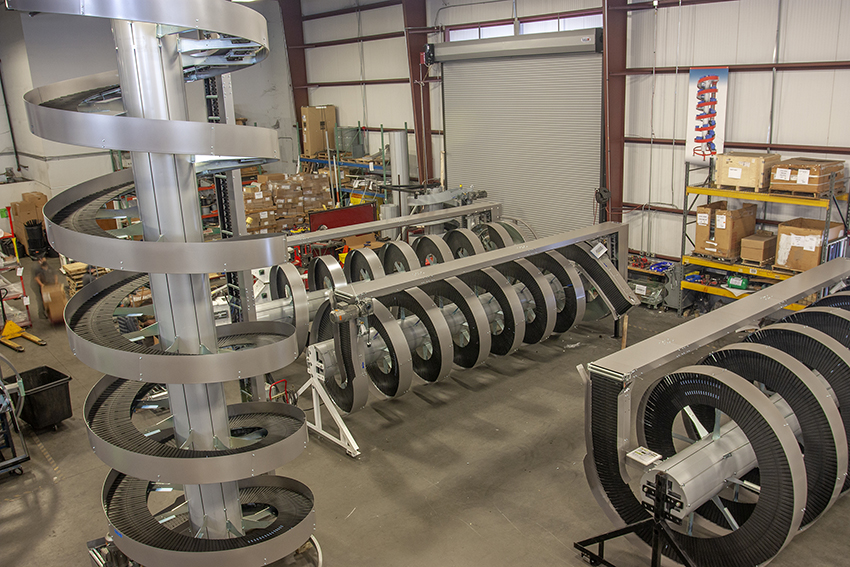 These 1800-400 Spirals are 24 feet tall and will be used to raise product overhead from the packaging side and then down to the palletizing area. They will be installed at a snack food manufacturer in Indiana. This job also illustrates the standard customizable options that can streamline your system layout.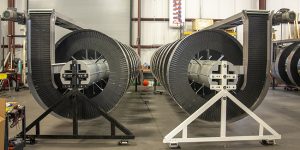 Incline/Decline: Any spiral can be configured to either incline, or decline. An up spiral and down spiral combination is very common when a process takes place on another level — or when using overhead space to transport materials.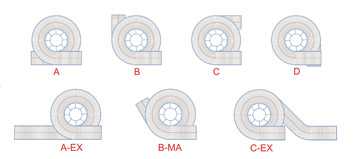 Direction: Any spiral can be engineered to rotate clockwise, or counterclockwise to fit in even the tightest production layout. They can often be used side-by-side or mirror imaged to minimize their footprint.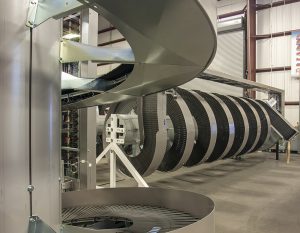 Infeed/Outfeed Tangent: Any spiral can also be designed with any infeed and/or outfeed tangent. The most common are 0º, 90º. 180º and 270º. It is also possible to have other configurations if it aids the plant layout. Another common design option is to utilize an extended infeed to vertically align the feeding and discharge conveyor, allowing them to to utilize the same footprint in your production layout, saving floorspace.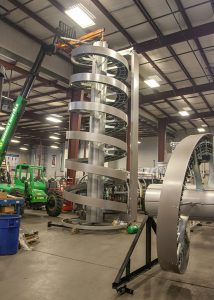 Spiral Testing: Finally, every spiral is tested and run prior to shipping, and we welcome FAT video tests if requested. This is very beneficial to the end user. It helps them get acclimated before the spiral shows up on their dock.
For more information about the design options for the Ryson Spiral Conveyors, visit our product pages, or download our general brochure or our  Ryson Spiral model size chart.