Next week, we'll be shipping out two new Wide Body Narrow Trak Spiral models to a contract packaging manufacturer for our Integrator Partner, BW Packaging Systems. Also shipping with these spirals is one of our case spirals.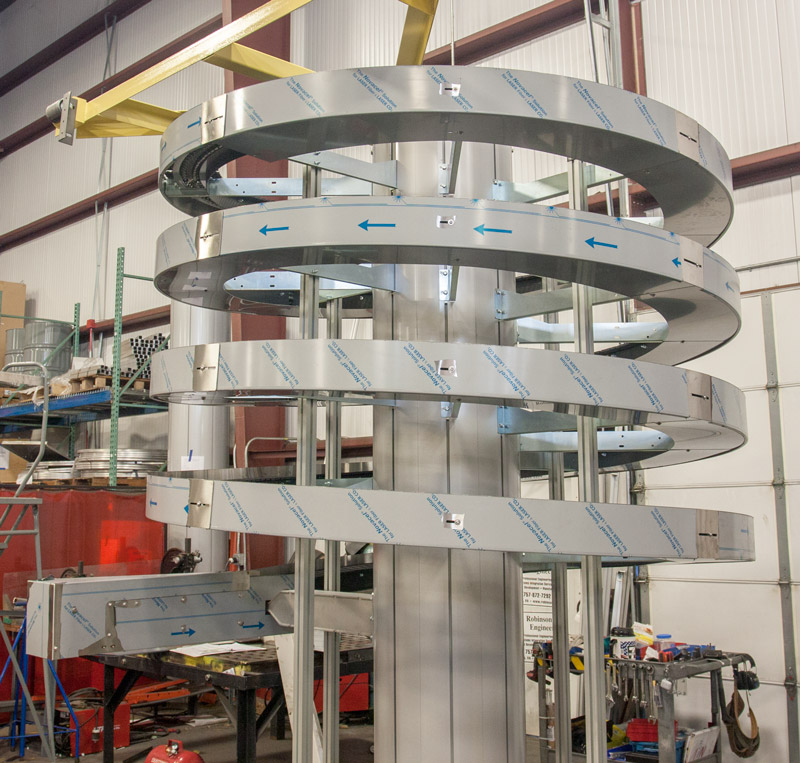 The 2100-230 model  spirals are a new addition to our 9" wide Narrow Trak models, developed to meet a need in the beverage markets, where taller products are commonly conveyed or large elevation changes are required.
The Narrow Trak replaces the normal "gripper elevator" applications. In this case, many different sizes of filled PET bottles are to be on the spirals and adjustments between production runs will not be necessary. Filler rates between 300 and 850 per minute requires these spirals to run at speeds of 200 feet per minute.
The incline spiral is in a wet area and is our Hybrid stainless steel construction with the down spiral made of our standard powder-coated construction.
These Wide Body Narrow Trak Spirals have an upper elevation of 10 feet and are 7'-8" in overall diameter, allowing them to be shipped in a standard enclosed trailer. To minimize travel in this day and age, we'll will create a "FAT video" to get final sign-off from the end-user prior to shipping,
Read more information on the Ryson Narrow Trak Spirals, download the product literature, or read recent application stories on Ryson's own weekly news blog.