New Low Profile Transition for Smaller Loads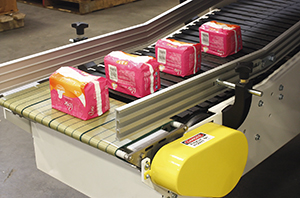 The transition between conveyors is always a challenge when conveying small packages. Ryson in incorporating a new type of powered low profile transition on two spiral conveyors ready to be shipped this week to a major personal care products manufacturer.
Ryson worked with Dorner Manufacturing Corp. to develop a reliable low profile transition that works seamlessly with the Ryson chain slat conveyor construction. These transitions are slave driven off the spiral drive shaft and will assist in gentle handling of products as small as 3 inches long. Another example of Ryson's commitment to find customized solutions for our customers. The integrator on this project is Zarpac, Inc. Click here to download the Ryson spec sheet on this transition option.